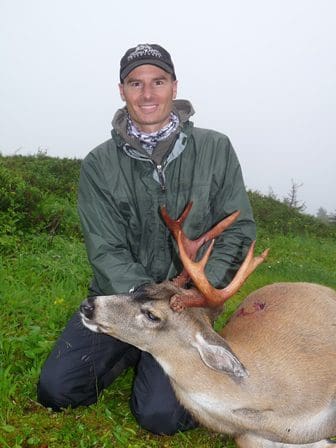 With Our sheep hunt scheduled for September this year, it made for a perfect opportunity for the Luber clan to make their biennial trek south for a little deer hunting action. We had big plans this year to take a couple bucks bigger than anything we've killed before. I had a remote location with some amazing bucks scouted out. Unfortunately, the week of the hunt turned out to be the one week of the entire summer without any discernible stretch of clear alpine weather. We had to go to plan B.
With limited time to be choosy about a weather window we packed up and drove an hour and a half in the rain to a spot I knew would be good for a couple meat bucks, even if we had no visibility on top. At the trailhead I stared in disbelief as Scott announced he had forgotten his raingear. I started the truck back up and we drove another 3 hours back to the trailhead, this time with raingear. By the time we had climbed the 2K foot spine to the alpine, we were wet to the core from torrential rains and wet brush. We spotted a few bucks in the mist, but with rain continuing, being wet and darkness descending we opted to find a campsite and look for bucks the next morning. As the rain pummeled our tent that night we were very thankful we weren't out there in it butchering a deer.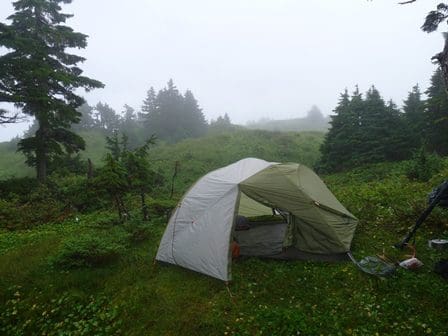 We awoke to diminishing rains, but heavy fog. We began still hunting our way along a ridge top heavy with scrub timber and interspersed meadows. I spotted the first deer just minutes from camp, a vague outline in the fog. It was a good spot as glassing revealed a dozen more deer in the vicinity including a bedded buck that would certainly fit the bill as a good meat buck. We didn't know what his head gear looked like other than it was a mature deer. 75 yards is like a tap in for Scott. That buck turned out to be a great 4x3. Not bad for a meat buck.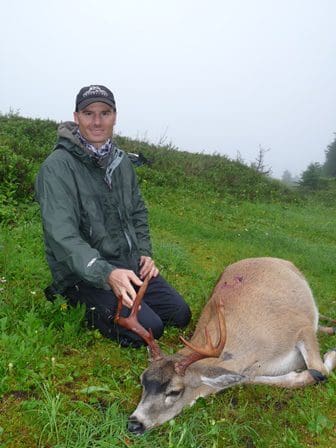 Once butchered, we stashed the buck and continued the hunt looking for my own meat buck. We only had a few hours left to find a deer and get home as we had only planned to be out one night. We bumped a few does as we skulked along, but weren't finding any bucks. We were starting to think about heading back when a nice fork horn appeared. It seems like when you find one there are likely more nearby so I passed hoping for something a little better. A few minutes later Scott spotted 3 bucks across a meadow and one was good enough with time running out. It was a long hurried shot from 270 yards but it found the mark. It turned out to be a good 4x3 as well. Not a bad take for a rainy, foggy meat hunt.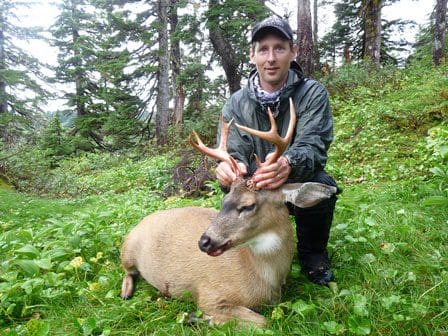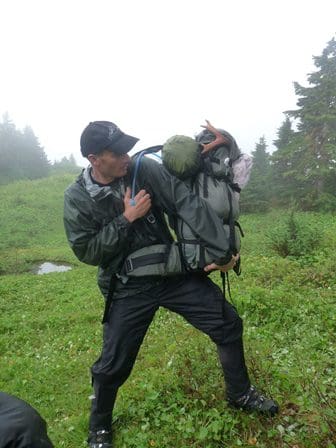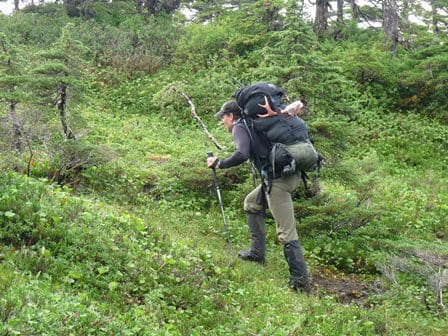 Special thanks to our friends Mike and Sarah Warner of Coffman Cove Adventures for the totally unexpected and spot on dinner as we made an unexpected drop in visit on the way home. Also, for hooking us up with enough gas to make it back to Craig. Otherwise we would have been tent camping in their yard waiting for the pumps to open the next day.