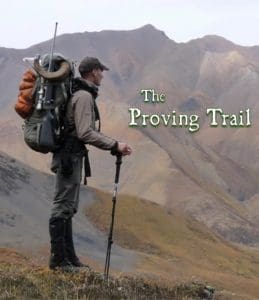 Video Summary
The Proving Trail, our short film that made the Hunt Film Tour. To the backdrop of a classic sheep hunt, our crafted narrative describes the Proving Trail. Loaded on a flash drive for convenience and versatility.
10 Minutes
Price: $8.00
Free Shipping
To the backdrop of a backpack style Alaskan sheep hunt, Scott and Steve discuss their quest to become the first hunters to accomplish the Alaska Walk-in Sheep Slam and how that goal became their proving trail, a spiritual journey of self-discovery they've walked together through the years in pursuit of Alaska's iconic Dall rams. Although they take two trophy rams on film, this hunt is less about the animals and more about what they represent. Commitment, hard work, dedication, friendship and joy. It's our hope that our dreams and how we portray them in our videos and this short film will be an inspiration to others and give a brief glimpse into the concept of there being so much more to the hunt.
This short video made the 2018 Hunt Film Tour. Loaded on a flash drive.