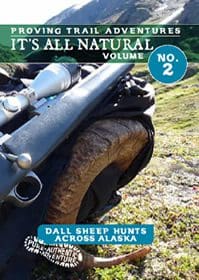 Video Summary
It's All Natural – Volume 2. The series continues with more full-length Dall sheep hunts across Alaska with Scott and Steve. More long miles, full curls and celebratory campfires. It's pure, authentic, adventure.
112 Minutes
Price: $19.99
Domestic and International Shipping Fees apply
The quest continues for the boys from Proving Trail Adventures. Come along on a multi-year journey as Scott Luber and Steve Bethune overcome impossible odds for another walk-in double, getting them one step closer to the first ever Alaska Sheep Slam.
Plus, watch as Liz Luber heads back up the valley to show how the ladies are also getting it done in the field.
Four epic hunts that hold nothing back. The sheep mountains often require hunters to ask themselves the hard questions and give more than their last bit of pluck to the adventure. Continuing to fuel your sheep fever, it's more dall sheep hunting with Proving Trail Adventures.
Warning; sheep hunting can be highly addictive. Watch at your own risk!