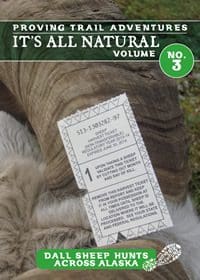 Video Summary
It's All Natural Volume 3. The latest installment of the "It's All Natural" series, featuring the hunts that complete Scott and Steve's epic Alaska walk-in sheep slam quest. Filmed entirely in HD and continuing the Proving Trail tradition of pure, authentic ram hunting adventure.
116 Minutes
Price: $19.99
Domestic and International Shipping Fees apply
Volume 3 of Proving Trail Adventures' "It's All Natural" series highlights the culmination of a unique sheep hunting quest years in the making. Come along with Steve Bethune and Scott Luber as each completes his monumental goal: to take a ram from all seven of the major Alaskan montain ranges, on walk-in-only hunts. The Alaska Walk-In Sheep Slam: never before accomplished…until now.
New for Volume 3 – three epic full-length Dall sheep hunts filmed entirely in HD. It's more sheep hunting action with Proving Trail Adventures.
Light hearts and heavy packs.