Alaska Sheep Hunting Instructional Video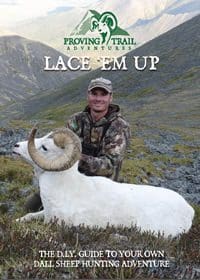 Video Summary
The first ever Do-It-Yourself Dall Sheep Hunting Instructional Video. Everything you need to know in order to Lace' em Up for your own Dall Sheep Hunt in Alaska.
160 Minutes
Price: $34.95
Domestic and International Shipping Fees apply
In this two-disk set, Scott Luber and Steve Bethune show you what it takes to succeed in the sheep hills. They cover everything from gear, food, clothing and physical conditioning, to scouting, aging and judging legal rams.
Then follow Scott and Steve from start to finish as they put all that preparation to work on a fair chase DIY, walk-in, backpack style hunt in the rugged mountains of Alaska. This hunt is part of the quest to take a walk-in ram from all seven Alaska mountain ranges.
The set is packed full of practical tips and tricks, laughter and a unique perspective on wilderness style hunting to prepare you for your own sheep hunting adventure.
Lace' em Up Customer Reviews
Gary – Palmer, AK

Just wanted to say great job on the video, I received my copy the other day & started watching last night & will watch disc 2 tonight.

Just watching Disc 1 I kept thinking that this was a great purchase. Well done, informative & knowledgeable & glad to see a video on just more than shooting sheep!!

Keep up the good work & maybe your already thinking of a second video??

Have to say at first I thought the price was a little high but I didn't care I was buying the video. But after watching Disc 1 I thought good investment & for 2 disc's it is worth every penny!!!
Steve – Fairbanks, AK

Watch the hunt disk yesterday while rehabbing my knee, really enjoyed it. You can tell these guys "get it", they understand that just being in the mountains is the true reward and they are truly blessed to have each other as sheep hunting partners. My favorite thing was watching them both as I could tell they greatly enjoy being together and hunting one of nature's greatest game animals. Got me pumped up to try to be ready for next year and I will watch it over and over during my prep this year as motivation. Good to see guys making a video without all the made up hoopla. Great video guys, well done!

Took the time to watch the hunt prep disk today and I have to say IMHO the judging segment is worth the cost by itself, especially for folks just starting out. Tons of great footage and tips. I will for sure be adding this video to my collection to show guys and gals that are interested in their first sheep hunt. I own about every sheep hunting video on the market and this is the first one that every covered judging and aging Rams.

Again great jobs guys!!!
Mike – Anchorage, AK owner of outdoorsdirectory.com

I just watched both disks last night. Really great job, guys! These DVDs are a huge contribution to the sheep hunting community, and are full of practical know-how learned the hard way- on the sheep mountains in sometimes-severe conditions. Not to mention that they're fun to watch. The first disk goes into trip planning, physical conditioning, gear and scouting. The second puts it all together on an actual on-foot sheep hunt involving a 22-mile overland hike off the road system. They even included some bonus field footage on how to cape out your ram.
Dan – Wallingford, PA

Great video guys!!!! Got it last night and popped in the second(hunt) disk. To be real honest, I was kinda disappointed it was only one hunt (although you scored a double). I didn't really read any full descriptions on the video but I did read some posts about you guys knocking down a bunch of rams so I guess I was expecting a few more hunts. Anywho, the one hunt was awesome and I will be watching the How To video tonight. I really enjoyed watching you guys chase rams DIY and being totally stoked doing it. Enjoy your unique friendship as it is priceless and very rare. And the two rams were HAMMERS to say the least!!!!!! Congrats and good luck with sales!! Hope to see some of your future hunts in my mailbox.
Joel – Prince of Whales Island, AK

2 guys from Alaska train and plan all year for their annual walk-in sheep hunt. The hunt DVD (1 out of the 2) shows the hunt in its entirety. These two guys have been tipping over sheep here in AK for years, by walking in from the road system. No planes used. Average hunt costs a little more than a tank of gas and some mountain houses. They take you along on 1 of the hunts. Basically from leaving the rig, the walk in, hunt, and the walk out.

A few things I really like about the Hunt DVD.

Scott and Steve filmed it themselves. No film crew. Don't expect perfect filming or kill shot after kill shot. They did an excellent job for a backpack hunting video camera.
They walked in 22 miles to the rams. This was not a gimmie hunt by any means. And, they doubled up.
Public land, harvest tickets. (any AK resident can hunt that spot)
No pimping of gear. They use very sensible gear, that pretty much anybody can afford. They aren't gear junkies with the latest and greatest packs etc.
They walked out 22 miles with 130lbs each on their backs. I liked how the DVD wasn't just kill shots, but showed the walk out too. It'll really make a guy think twice about how important training is before attempting such a feat. That is such a huge part of the hunt that many big production shows just can't show.

That's my review. I liked it a bunch. Makes me want to kill a sheep... Almost makes me wish I wasn't a fisherman so I could go chase those white animals in August.