Welcome to Proving Trail Adventures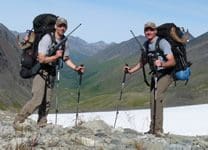 Proving Trail Adventures is the belief that there is more to the hunt than just the pursuit of big game. There's the pursuit of God and what's inside of us. Out in the wilderness we will come face to face with each and when we return, we'll return changed.
Part of the Proving Trail has been our goal to take a ram from each of the seven major mountain ranges in Alaska that have dall sheep - all by walking in from the road. As far as we know, it's never been done before. We just changed that. Seven Mountain Ranges, Seven Rams, Two Legs. Accomplished 2012 and 2014.
Proving Trail Adventures Videos are real life hunting videos of our pursuit of Alaskan big game. No scripts, rehearsals, staging or re-creating moments. It's 100% real backpack style hunting. We're by no means professionals, but we have some good stories to share about our hunting adventures in Alaska and we think you'll agree.