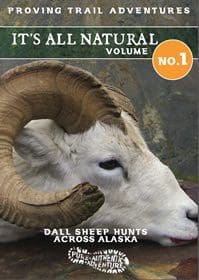 Video Summary
It's All Natural – Volume 1 is the first in a new series of videos highlighting sheep hunting Alaska, the way Scott and Steve do it best; boots, backpacks and a love for adventure. Nothing is staged, scripted or rehearsed.
98 Minutes
Price: $19.99
Domestic and International Shipping Fees apply
Filmed in the same spirit as Lace 'em Up – the DIY Sheep Hunting Video, four hunts are shown in their entirety. Sheep hunting is about more than just the kill. Scott and Steve show you the whole experience to help encourage and inspire your own successful sheep hunting adventures - no matter whether your pack out is heavy or light.
Girls hunt too! Proving Trail Adventures introduces Liz Luber as she pursues her first ram – and this isn't any ordinary ram – on a late season hunt. If you liked Lace 'em Up, you're gonna love It's All Natural.
It's All Natural Volume 1 Customer Reviews
James Parker – Anchorage
From an entertainment value, I thought it was better than Lace 'em Up. It was exhilarating. Drew me in for the entire 98 min and time passed too quickly. I'm not even a hunter and I found myself wanting to be on the mountain with you guys. An inspiring story that I enjoyed from start to finish.
Lance Raymore – Anchorage
Your videos are a nice departure from standard outdoors film today. Today many videos are nothing more than film adaptation of the glossy magazine formula. They lack character. You and Steve make it personal, which makes it relatable to our own experiences.