What a great way to get a bunch of secretive, paranoid and reclusive sheep hunters together so we could all lie about where we shot our rams.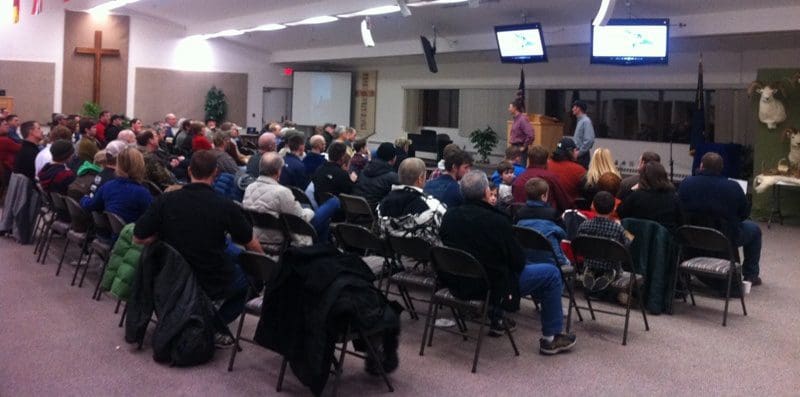 The premiere showing of Lace 'em Up (just the sheep hunt DVD in the two DVD package) was a great evening. The line of tables full of appetizers that the gals put together were amazing and people came to enjoy the show. It was a great turnout of folks that appreciate Dall sheep and the effort it takes to pursue them in the high country. Thanks for coming, it was a fun way to get the word out regarding who and what Proving Trail Adventures is.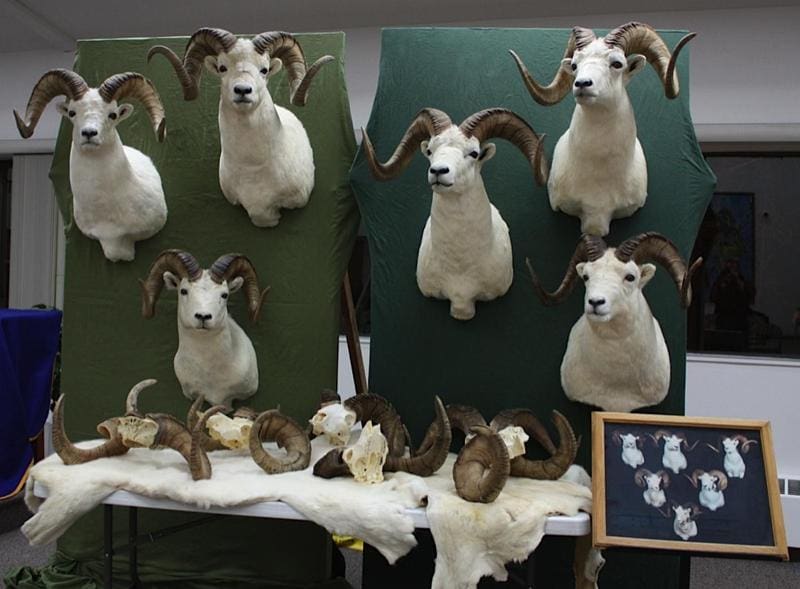 Steve and I put up a Dall Sheep display that that had plenty of wrong guesses made on aging rams and plenty of "someday" thoughts filling heads with wonder at an impressive 173" ram that was loaned to us from Joe LoMonaco. Thanks to Joe for the use of his three rams, Jerry Ralson's (far left) and Joel Brown's (bottom right) rams. Other than the euro mounts on the table, Steve and I can only claim the ram from the top right. A 40.5" ram that Steve had seen a year prior and passed on some advise that helped me harvest him as my first ram. I could have stood there admiring that impressive display of fullcurlage the entire evening.
The framed photo in the picture is of a few rams that were at a 1986 Sheep Days put on here in Anchorage by F.N.A.W.S. These were just six of close to thirty rams they'd have up on display. Starting from left to right: Jack Lentfer (185 5/8), Harry Swank (189 6/8), Jonathan Summar (183 6/8), Gene Effler (183), Tommy Sheets (184), and Al Lee (never officially scored). That would have definitely been an grand sight seeing so many top 10 rams on the wall together. A good story goes with the Summar ram taking a flight to Anchroage with Joe Lomonaco in his C-185. Joe says that Mr. Summar told him just before he climbed in his plane, "Anything happens to this ram, better happen to you too." And without a hint of joking.
Thanks to our wives for all their help and support to make this premier night, this video and our sheep hunting adventures happen. You gals are the best.