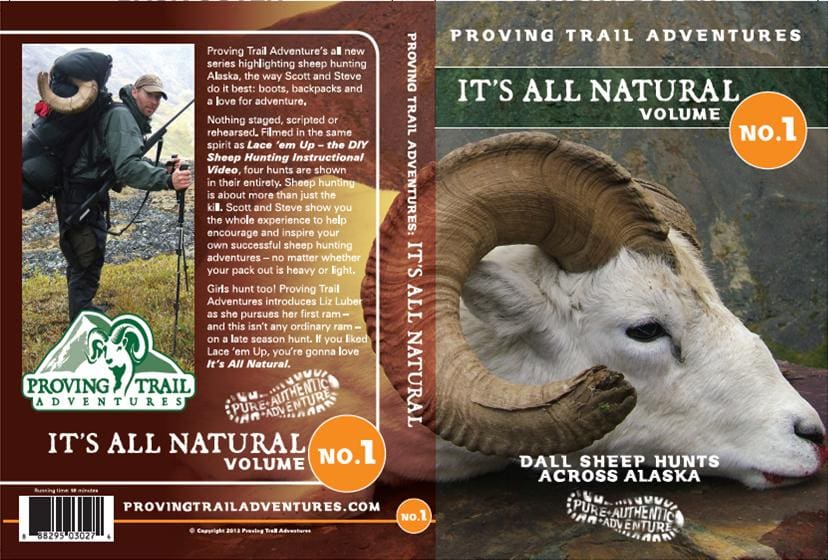 Proving Trail Adventures is announcing the release of It's All Natural with Volume 1. This is the first in a new series of videos highlighting dall sheep hunts all across Alaska.
As a prequel to Lace 'em Up, Volume 1 takes you back to the beginning when Scott and Steve first discover Ram Nation. Sheep hunting isn't just for the guys either, Liz Luber takes on the sheep slopes in pursuit of her first full curl that same year. All four of these new sheep hunting adventures were filmed in their entirety and will get you fired up for your next trip to the high country. If you liked Lace 'em Up, you'll love It's All Natural. It's Pure, Authentic, Adventure.
4 Hunts – 98 minutes and plenty of ram footage to help get you through the winter months.
Pre-orders are currently being accepted on our Hunting Videos webpage. We'll try our best, but we can't guarantee delivery by Christmas as we're at the mercy of our production company. We're sure the hunter or little hunter-to-be in your life would love to get this IOU from Santa in their stocking on Christmas morning.
Keep in mind that the shipping costs are the same for a one-DVD purchase as they are for a two-DVD purchase, so go ahead and order that second copy for a last minute gift!